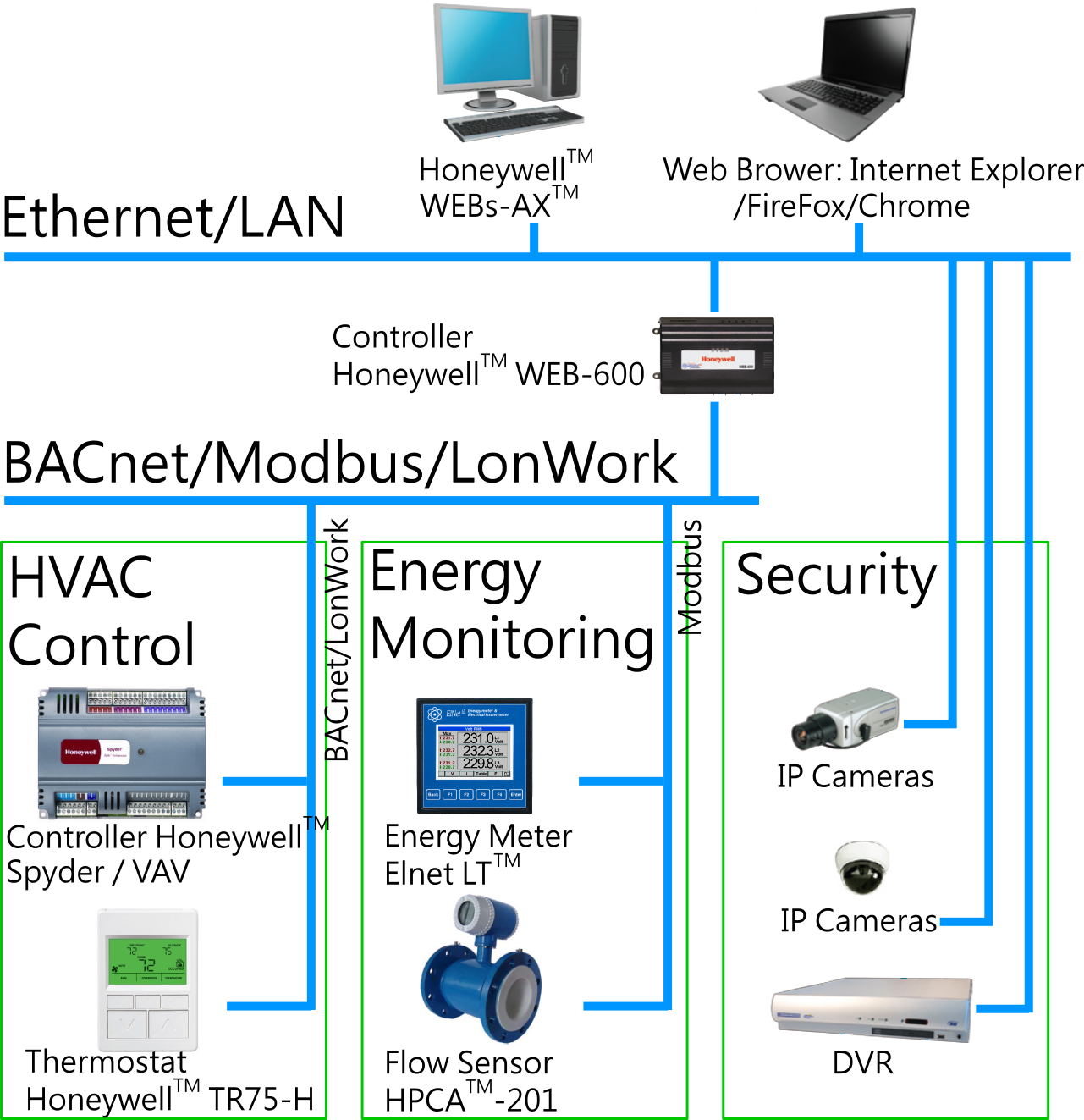 Features
Allied Success recommends our clients to install WEBs-AX system as building automation system in their building as WEBs-AX system has amazing system stability, great flexibility and supportive to various equipment with different protocol, alarm monitoring function and user-friendly interface.
Honeywell WEBs-AX system supports variety of communications protocols, i.e. BACnet, LONWORK, MODBUS, IP address, and the most origin method by either extra-low electric voltage or current, for controlling and monitoring different equipment purposes. This feature benefits to Allied Success and our clients to select appropriate and economic controlling components including Honeywell, but not limited to ACI, AVA, Elnet LT, Johnson Control, HPAC, Siemens, etc. in the Honeywell WEBS-AX system.
Recently, the increase is significant about Resort Hotels and Shopping Centers in Hong Kong adopting Honeywell WEBs-AX system. These property management demands their building automation system should be ease to monitor anytime. The Honeywell WEBs-AX system is fulfilled by connecting the worldwide internet and establishing webpage, so as to let the user to access and monitor their property system from their portable computer. Alternatively, users may use SMS to receive any critical information about their property status, as Honeywell WEBs-AX system does support SMS by extra plug-in.
Allied Success provides customized animating user-interface commented by clients and excellent maintenance services by our profession teams to enhance your property quality. Our team is experienced to provide stable HVAC control with common senses on both basic computer grammars, such as "Try and Catch statement", "Switch Case Statement" and "If and Else Statement" , and building services engineering about HVAC Psychrometric and local fire services requirement. Allied Success makes our clients' idea comes true especially on equipment running time selection, dehumidification, free cooling and other requirements by smoothly cooperating with your consultancy.
Customized User Interface
Please preview our works on user-interface as either a preview or demonstration about the way of the building automation works. Honeywell WEBS system is commonly applied in Resort Hotel, Public Services Properties, Commercial Centre in our Portfolio.